In preparation for learning texturing with Substance Painter we started a small model project. Our targeted workflow for hard surfaces will be the following:
Modeling in Blender
Texturing with Substance Painter
Rendering in Gameengine Unity3D
The first step was modeling the spaceship in Blender.
This process was very helpful to understand the demands on 3D models for texturing.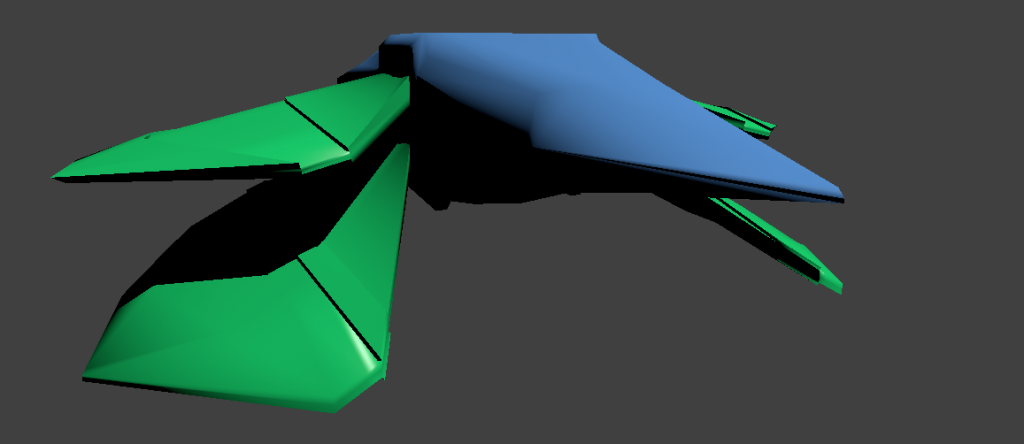 We evolved this 5 key topics from our first spaceship in Blender:
Topology optimization for Substance Painter and Unity3D
Edge Split Modifier
Mirror Modifier
Smooth shading
UV optimization for Substance Painter
As 3D model novices we underestimated the importance of a good topology in the first place. We finished the first spaceship in Blender and imported the model in Substance Painter. If you don´t know what a good topology is, your problems will start right now. A lot of shading artifacs appeared and normal map glitches were all over the model.
As always google came to our rescue and we found a pretty helpful youtube video about good topology from Richard Snyder.
We would suggest everybody who starts with blender modeling to watch this video. You will get a better unterstanding of how things are working. Good topology is not only important for a texturing applications like Substance Painter. Also gameengines like Unity3D or UE4 benefit from a good topology.
In conjunction with topology we learned alot about smooth shading, edge split modifier and UV optimization.
Another interesting video from Richard Snyder deals with the topic of fixing a bad topology.
After watching the videos we choose to start the spaceship in Blender all over again. This time it was much easier to import the model to Substance Painter. The next step will be the texturing process. We will live streaming our first texturing attempts with Substance Painter on Twitch.